2023 NW Montana Fair & Rodeo Daily Schedule
The 2023 Northwest Montana Fair & Rodeo is scheduled for Aug. 16-20 at the Flathead County Fairgrounds in Kalispell. In addition to a family-friendly carnival on the midway and thousands of exhibits on display throughout the grounds, the fair will feature a performance by rising country star Russell Dickerson, three nights of PRCA Rodeo action and a Big Air Bash.
Admission onto the fairgrounds is a separate fee at the gate and costs $8 for adults and teens, $5 for seniors ages 65 and over, and $5 for children ages six to 12. Children ages five and under are admitted free of charge. Fairgoers can save money by purchasing admission tickets until Aug. 18 or while supplies last at any Whitefish Credit Union branch in Kalispell, Columbia Falls or Whitefish during normal banking hours beginning Aug. 1. Advance admission tickets are $5 per person, regardless of age. Thursday, Aug. 17 is Senior/Kids Day at the fair. Seniors ages 65 and over and children ages 12 and under are admitted onto the fairgrounds free of charge that day.
Dickerson will perform in the Grandstand Arena on Aug. 16. Known as a high-energy, fun-loving singer/songwriter, his hits include Platinum chart toppers "Yours," "Blue Tacoma," "Every Little Thing," "Love You Like I Used To," and "She Likes It." He recently released his third album through Triple Tiger Records, featuring 15 tracks that represent a fusion of different musical genres and eras that combine to produce a vibrant country sound.
Reserved seating tickets for the concert are $45, and party pit tickets are $55. General admission tickets for everyone over the age of five are $35. Children age five and under will be admitted to the general seating area free of charge. All tickets purchased prior to arriving at the fair include admission to the grounds. The concert is sponsored by Kalispell Toyota & Northwest Toyota Dealers.
The Ram PRCA Rodeo runs Aug. 17-19 and will feature world-class athletes from Canada and throughout the United States aiming for the National Finals Rodeo in Las Vegas. Events include bareback, saddle bronc, steer wrestling, tie-down roping, team roping, barrel racing and bull riding. Reserved seating tickets are $35, and general admission tickets for everyone over the age of 12 are $30. General admission tickets for children ages six to 12 are $15, and children age five and under will be admitted to the general admission area free of charge. On Aug. 17 only, seniors age 65 and older can purchase a general admission ticket on the fairgrounds for $15 for that evening's rodeo
The fair culminates on Aug. 20 with the return of the popular Octane Addictions Big Air Bash, a motorcycle and snowmobile stunt show featuring riders who have competed and medaled in the X Games. Adult tickets are $20, children ages six to 12 are admitted for $10, and children ages five and under are seated free of charge in the general admission area.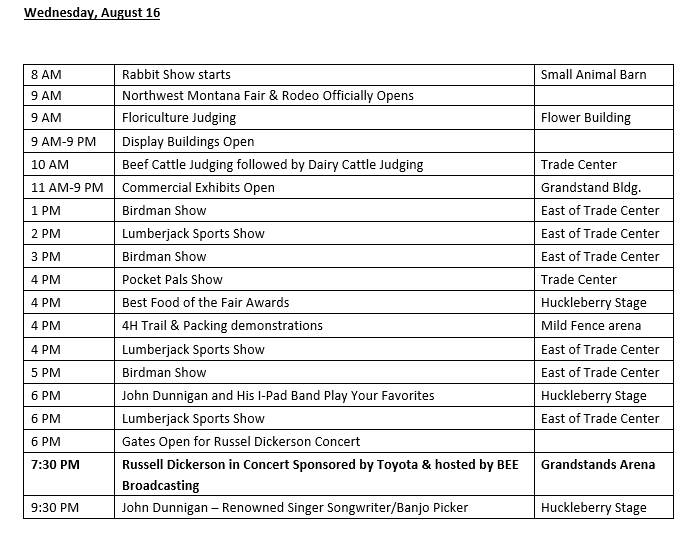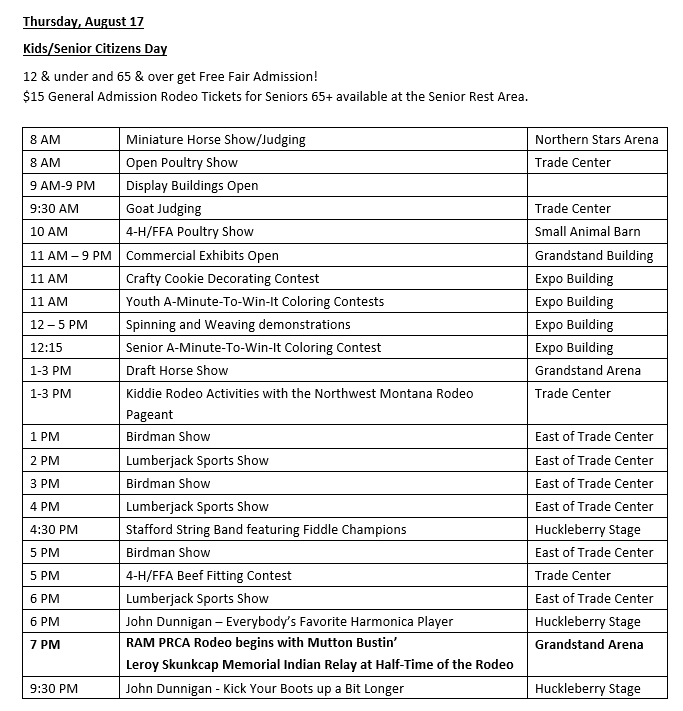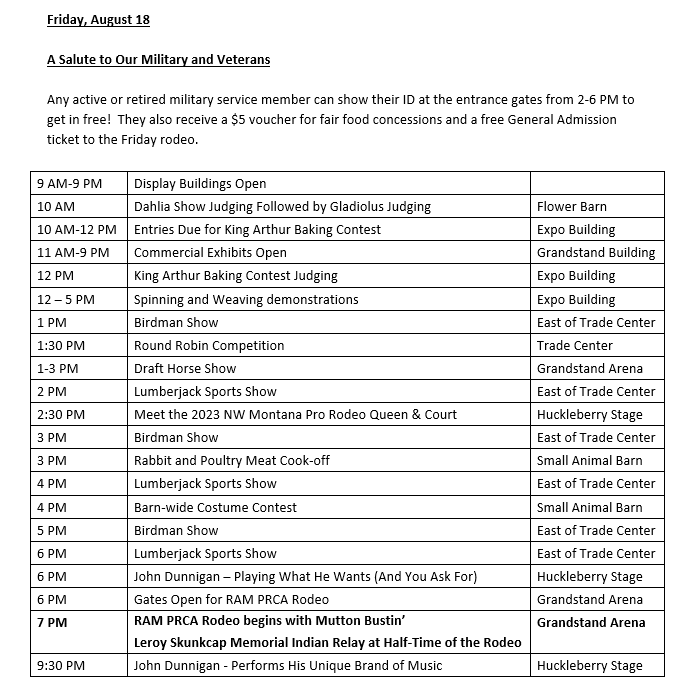 Rusty Wright on Believe Me of Kesler Pro Rodeo at Northwest Montana Fair and Rodeo Kalispell MT August 16th, 2018. Photo by Josh Homer/Burning Ember Photography.
THANK YOU for taking part in the NW Montana Fair & Rodeo – A 119 year tradition and growing.
Living Montana's Best – August 16-20, 2023